Disclosure: This shop has been compensated by Collective Bias, Inc. and its advertiser. All opinions are mine alone. #SnackItAndPackIt #SeasonalSolutions #CollectiveBias
Make your child smile like a jack-o-lantern with this wickedly fun Halloween sandwich. This post is full of Halloween inspiration, tons of coupons and free printable love notes to slip in their lunch box.
Halloween is my favorite!
You know what else is my favorite? SAVING MONEY!
Who doesn't love a good coupon!
Kroger and Kroger Banner stores like Smith's are having great sales and limited time savings on all my favorite things. Liiikkeeeee….
Rice Krispies Treats®: Rice Krispies Treats are a classic must-have pantry staple. So ooey-gooyey, crunchy, and sweet. These treats fly off of the shelf.
Pringles Snack Stacks: The best thing about these single-serve tubs of Pringles® crisps is that you don't have to share. Perfect size for slipping into lunch boxes, diaper bags, and picnic baskets.
Mini Fudge Stripes: These Keebler® shortbread mini cookies are striped with delicious fudge made from 100% real cocoa. These will hit your sweet tooth and give you that mid-day chocolate fix you have been craving. And with a bag that small…it's like it never happend!
To get your digital coupon hover over the picture below: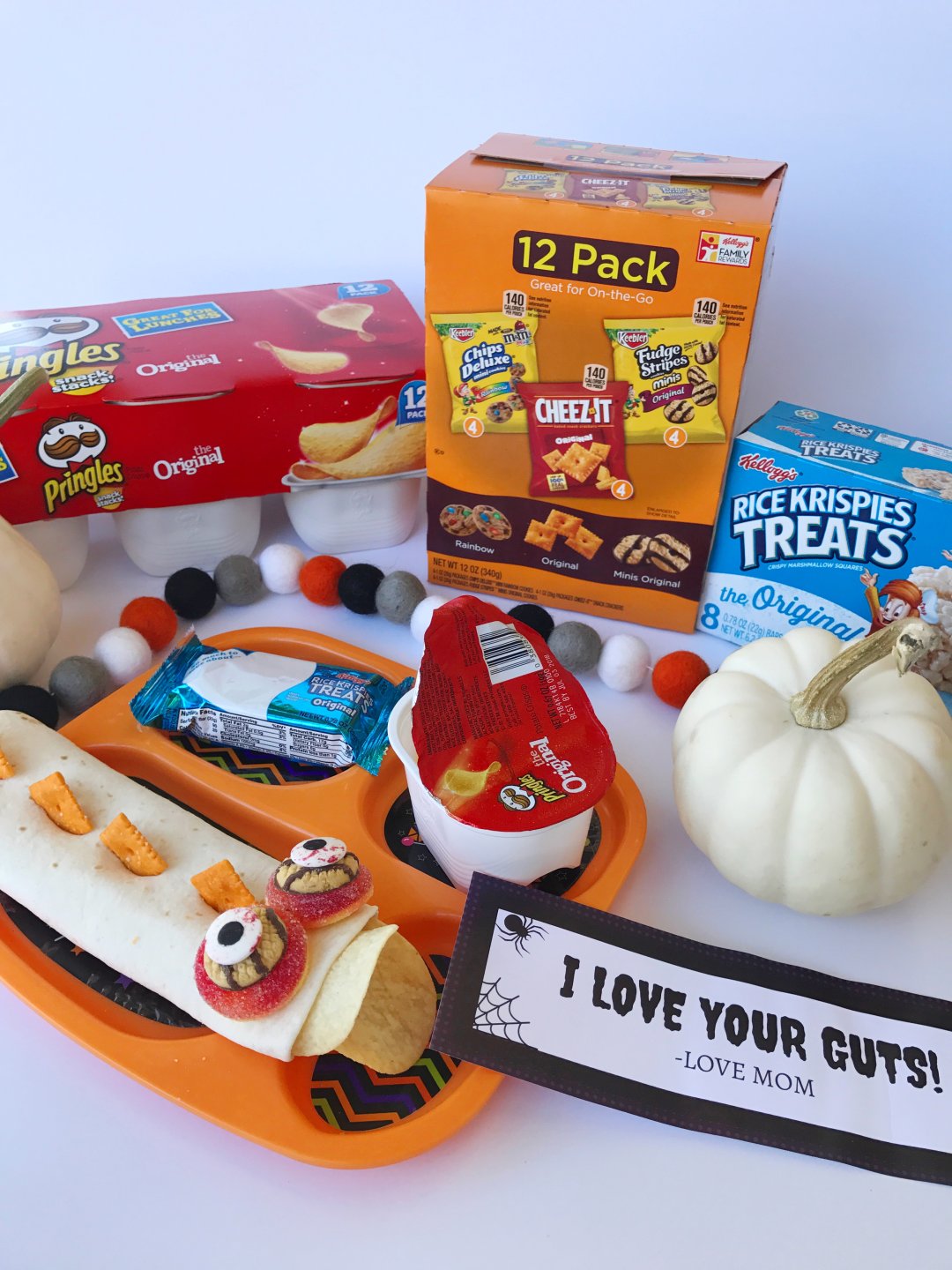 I went to my local Smith's® Grocery store and found these products in the cookie and chip aisles.
How To Make An Adorable Halloween Lunch
Step One
Make a sandwich or wrap. My kids love turkey or classic pb&j.
2. Step Two
Using Cheez-Its® Keebler Fudge Stripe Cookies®, Fruit rings, and candy eyeballs. Make spooky faces to give your kids lunch new life. IIT'S AAALIIIIIVEEEE.
3. Step Three
Print off this free printable to let your kids know that "mummy" loves them!
Cut one out and slip it in their lunch box for an extra special surprise! Click link below to download.
Click below to download.
For more spoOOOooky ideas, do not forget to visit the social hub:
Also visit Kelloggs on Facebook HERE

Happy Haunting to you and your pumpkin heads!
Much Love
-Lou